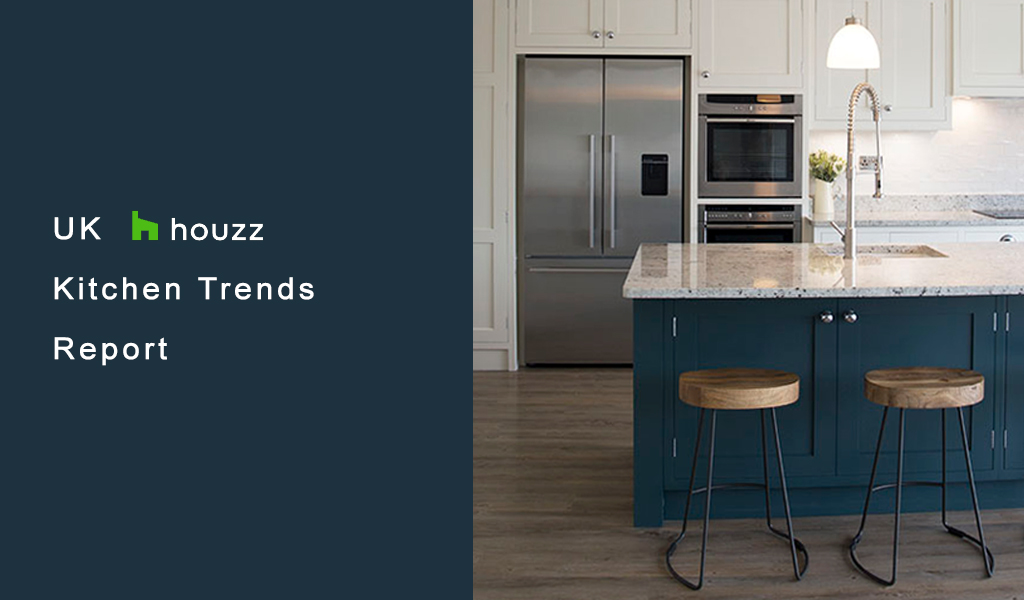 The kitchen is the heart of the home; a hub for hosting; the source of all comfort foods and the busiest room in most houses. A study conducted by Houzz showed that we all want similar things from our kitchens – namely an organized, open space that makes meal preparation an enjoyable occasion. The report was based on a questionnaire completed by almost 5000 homeowners and showed current kitchen renovation trends.
Defining the Typical Renovator
The report showed that most kitchen renovators were around the age of 35-54, with 59% of study participants falling within that age bracket. The majority of these home improvers, over 72%, had bought their home within the past ten years and over a third of the group intended to sell their home in the next ten years.

Reasons for Renovation
The next section of the questionnaire studied reasons for renovation. Around 40% of report participants had recently purchased their home and wanted to put their own stamp on the most important room in the house. A similar number of answers suggested that the homeowners had always intended to improve their kitchen and now finally had the means to do so. Only 3% of those questioned were updating their look in order to improve chances of a sale.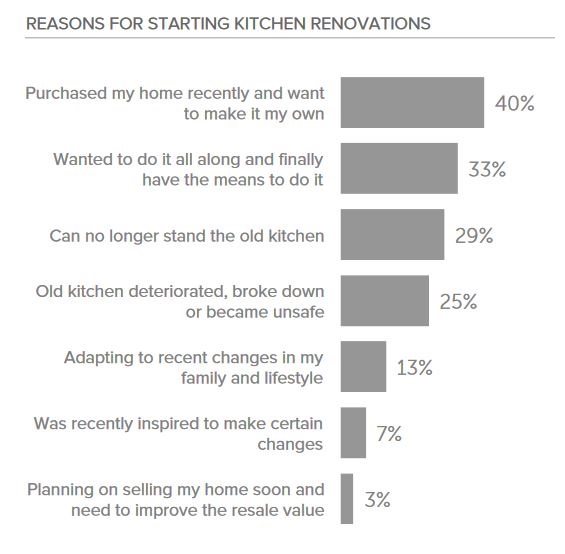 Popular Style Decisions
When it came to redecorating, over 55% of those questioned preferred a contemporary finish to their kitchen. This look was the most popular by far, with 10% enjoying a traditional look and 7% interested in a Scandinavian design. All other styles received less than 6% of the vote each.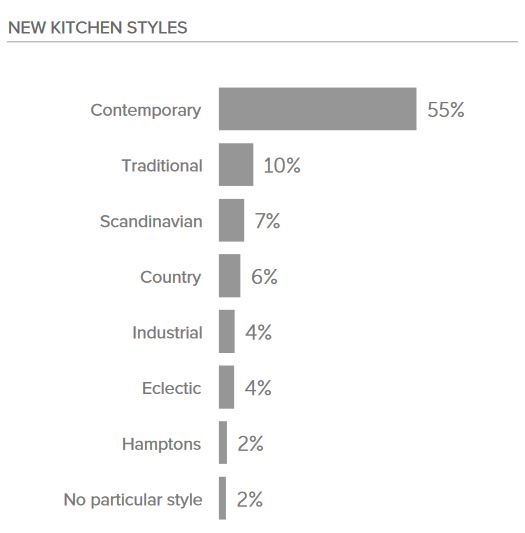 Popular Upgrades
When renovating, homeowners tended to look at the most prominent features in the kitchen to make the biggest impact on their style. Worktops, cabinets and other plumbing features were the most popular elements to upgrade, all with over 90% of participant response. When it came to adding brand-new features, kitchen islands were the most popular with 41% of the votes, while pantry cupboards and breakfast bars were also key investments, with 39% and 34% of responses respectively.

Cabinet Upgrading
When it came to improving their cabinets, the participants' motivations were simple – they wanted to improve the way they used the space, with 80% giving that as their reason for renovation. They were also craving more minimalist spaces, with 55% stating they wished to reduce clutter and 53% looking to make things easier to find. So, it makes sense that 73% of those surveyed upgraded to include a cutlery organizer, 60% added deep drawer organisers and 49% used the renovation to organize recycling or include a pull-out waste bin. Cutlery organization seemed to gain importance with age, with those in the 55+ bracket most likely to include this in their design.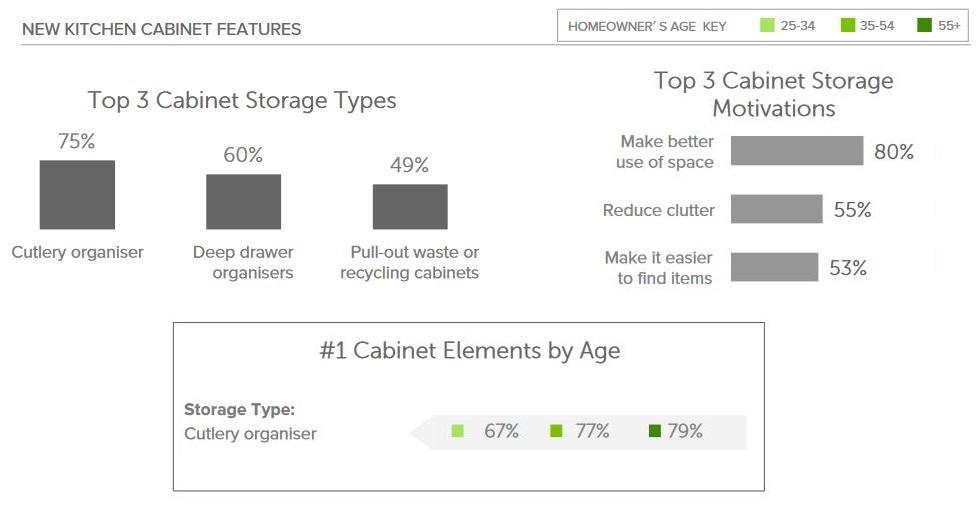 Other Upgrades
Ceramic and porcelain flooring was the most popular choice for upgrades, with over 31% of study members opting to walk on this material. Engineered wood and stone tiles were the next favourite, with 16% and 14% of votes.
Worktops tended to be made with engineered quartz (28%), granite or laminate (18% each). Around 62% chose recessed lights for their kitchens, with over half opting for under cabinet lighting. Exactly 50% liked the ambience that came from pendant lights.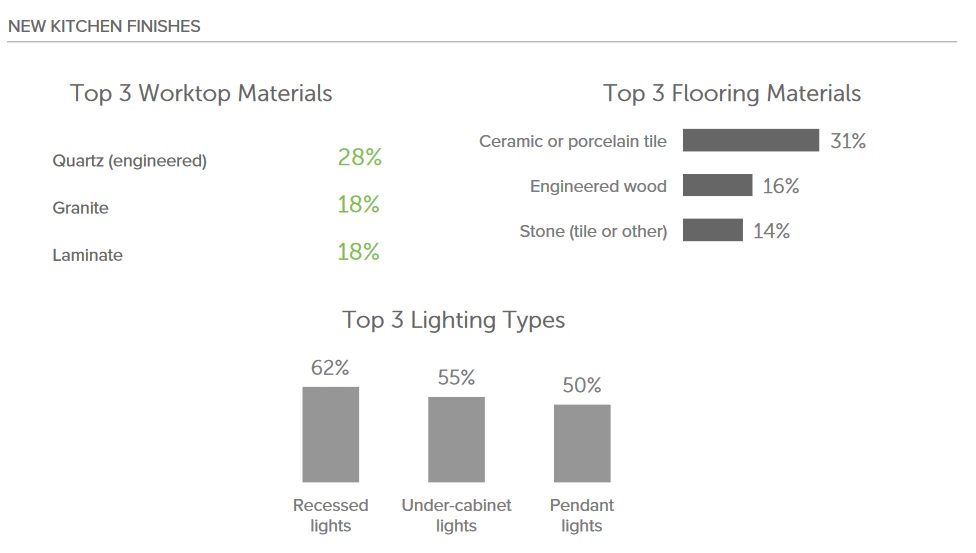 If you have been struggling to decide on themes and ideas for your next kitchen project, perhaps you can take some inspiration from this report, which has outlined the most popular themes, so you can stay on trend and spend more time in your kitchen. Don't hesitate to contact us to help make your bespoke kitchen idea a reality.